LAWRENCE C. JORGENSEN

A PUBLIC VIEW: 2000

A people without history is like the
Wind on the buffalo grass. --- Lakota

BEGINNINGS

Even to be half awake among sleep-walkers,
is frightening at first. Later, one learns
to dissimulate. --- Durrell. Clea.
Born May 17, 1934,
Chicago, Swedish Covenant Hospital;
St. Pascal's, St. George's and St. Gregory's Roman Catholic schools, grades 1-12, Chicago;
U.S. Coast Guard. 1952-1956.
ACADEMIA
Chicago Teachers' College, one semester; U of Illinois (Navy Pier), two semesters; then the BA, MA and two additional full years of graduate work, at University of Chicago, 1956-1963. Specializations included United States History and Political Economy, Russian and Soviet History.
---
JOURNEYS
Let me say, at the risk of seeming
ridiculous, that the true revolutionary
is guided by great feelings of love. --- Che
TEACHING

Los Angeles Valley College, Van Nuys, CA, Retired December 31, 1999, after thirty-five years, Professor of History and Political Science;
State of California Correctional Facility, Ft. Bragg, Ca, 1975-76;
College of the Redwoods, Ft Bragg, Ca, 1975-76;
University of California, Los Angeles; Roosevelt University and University of Illinois, Chicago;
And, three years in the Chicago southside secondary schools while a graduate student.

CURRENT ASSOCIATIONS, MEMBERSHIPS:

American Solar Energy Society;
Amnesty International;
Ecology Center of Southern California;
Native American Rights Foundation.

WRITER, ORGANIZER, SPEAKER:

Community Representative for Congressman Charles Boyle D-Ill, 1958-59;
Employment Director, Congress of Racial Equality (CORE), San Fernando Valley chapter, 1964-65;
Campaign Manager for Farrel Broslawsky, Democratic Party, 57th Assembly District of California, 1966;
Statewide (California) sponsor, organizer and speaker for the Peace and Freedom Party Registration Drive, 1967-1968;
Articles published in various "underground" publications in the United States. Topics included: "The Origins of the Cold War, 1917-1945", "Vietnam", "The Berrigan Brothers", 1968-1971;
Associate Editor, Los Angeles News Advocate, 1971;
Civil Rights and Anti-Vietnam War speaker at numerous rallies, "Teach-Ins", and to various community, religious, social and political groups, 1964-1972;
"Solzhenitsyn: The First Freedom and Soviet Power", Los Angeles Valley College, 1971;
Coordinator of an energy symposium held at Los Angeles Valley College entitled Six Days in May: Energy and American Survival in the 1980's, May, 1979;
Throughout the 1980s, organizer, speaker and writer on environmental topics: Nuclear Power and Nuclear Waste Disposal, Ward Valley, the Political Eco-Nomy of Water in California's Past & Present, Oil and the Petrochemical World;
Organized, Facilitated & Spoke, "The New Censorship, a Symposium on Sexual Harassment, Free Speech & Academic Freedom", Los Angeles Valley College, 1994;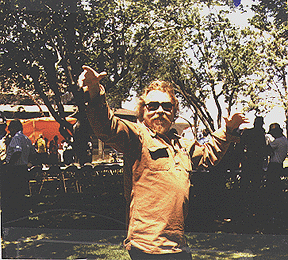 If I can't dance at your revolution, I'll pass.
You and me, Emma 1983.


MEDIA

Two CBS, Los Angeles, television specials. Topics: Anti-Catholicism in late 19th century America, and Community versus Conscience: John Cotton versus Roger Williams, 1966;
Guest, Joe Pyne Show, KTTV, Los Angeles, two appearances. Topics: "Civil Rights and Black Power", and "The Anti-War Movement and Civil Disobedience," 1968;
Hosted weekly radio show, The Gadfly, KPFK, Los Angeles, on current political - economic issues, 1969-1971;
Guest appearance, Let's Rap, KTTV, Los Angeles, The Hazards Of Nuclear Power, May, 1979;
Take 30, KBSC-TV, Los Angeles, Topics: "Energy Shortage, Real or Imagined?" and "Water, "The Most Finite Resource", June and July, 1979;



Criminal trespasser, Lynn Langford, Rocky Flats
nuclear weapons facility, 1978



In 1982, in conjunction with the publication of my San Fernando Valley: Past and Present, I guested four Los Angeles television shows, Two on the Town; Two for L.A., Mid-Morning Los Angeles, Saturday Morning; and several radio, call-in shows, all dealing with the eco-nomic, political and social issues raised in that book;


In the latter 1980s, I appeared on four EcoNews TV shows (produced by the Ecology Center of Southern California) that dealt with issue of hazardous waste disposal, particularly that infamous Superfund site, the Stringfellow Acid Pits, one of which I assisted in producing.

---
DESTINATIONS

Hold fast to dreams, for if dreams die,
life is a broken winged bird that cannot fly. --- Langston Hughes

Lynn & Chuck, "Summers of Love,"
circa late 1960s.


Chuck and Lynn's first grandchild, Melissa.
Mendocino, CA. 1979
PUBLISHING

Writer-Publisher (Pacific Rim Research Co.); articles and magazines on northern California, ie. Mendocino, Past and Present; The San Fernando Valley: Past and Present, 1982.
Research in progress: The Cycles of Technology: 200 Years of Industrial Capitalism in the United States; Novel in progress, of course; The Definitive History of the Universe Vol. XXVII, Chap. 9, Earth and Its Inhabitants.
The Millennial Files on the web @ http://www.mmmfiles.com
INTERESTS

The Ecological Imperative; The World-wide Political-Eco-Nomic Implications of the Twenty-Ninth Day.
A future, healthy and free, for all that grow, creep and walk, fly and swim, especially for the children of our children.

Cattle die, kinsmen die, I myself shall die; but
there is one thing which I know never dies:
the reputation we leave behind at our death. --- The Havamal.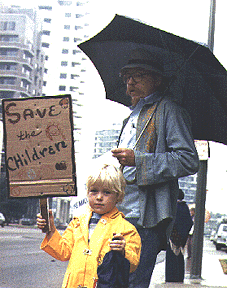 Chuck & Melissa - "NO NUKES IS GOOD NUKES", 1980



---