THE
ACCUSED SEXUAL HARASSER, 1993
When I was first notified that I had been accused of sexual harassment, Prof. Jack Arnot, a colleague of mine in the History Department, insisted that I not go near any such administrative hearing without the best attorney I could afford. As luck will have it, the best was already a long time friend of mine, and a member of our department. Professor Farrel Broslawsky jumped in, and represented me at every muddied step through the administrative quagmire, all on his own time, at his own expense. I urge you to read his legal statements. Watching Farrel trash the District's legal department was an awesome experience. He is a trip, a real piece of work.

Indeed, the reason I am attaching this record to my web site is to add to the growing body of writings about the 1990s most obvious pathogenic manifestation of that decade's cultural wars. And since neither the decade, nor that particular pathogen have run their course, what happened here, in a small Los Angeles Community College, and how we resisted, may prove instructional to others, younger, and elsewhere.

I realize that not everyone has a friend as devoted, experienced, and as bright as Farrel Broslawsky. Thus when individually confronted by the legal and administrative power of the accusers, coupled with the co-option and opposition of your own union's leadership, the immediate tendency is to cooperate with the accusers, and enter into some sort of plea bargain. I understand, and I sympathize with all those falsely accused but pressured into an admission of wrong. But, the lesson we learned, and the one I hope to impart to you, is simpler than you think. Resist the pathogenic; let the sun shine in; expose them for what and who they are. Do not compromise your integrity your reputation, your future, your career, your life.

What follows may or may not prove instructive and or helpful. I hope it does. This is but a small sample of the growing manuscript, in which I will be able to thank all those who contributed time, energy, intellect, and money to oppose this infringement upon classroom speech and materials. Until then, you all know who you are, and mucho thanks. Pax&luv. Chuck Jorgensen, August, 1997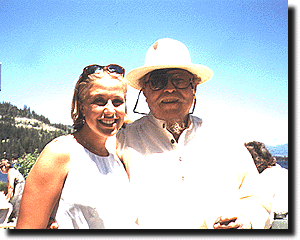 Melissa Delilah and old man Jorgensen.

| | |
| --- | --- |
| 1. | The Complaint |
| 2. | LCJs remarks to the Academic Senate, October 7, 1993 |
| 3. | LCJs letter to the media and others, October 16, 1993 |
| 4. | Letter from Jorgensen to Oliver, October 25, 1993 |
| 5. | Academic Senate Resolution, October 28, 1993 |
| 6. | Broslawsky to Vice President Wieder, "Request for Meeting," November 1, 1993 |
| 7. | Broslawsky to Vice President Wieder, "Corrections to previous letter," November 2, 1993 |
| 8. | Jorgensen to Dean Oliver, November 8, 1993 |
| 9. | Broslawsky to Dean Oliver, November 11, 1993 |
| 10. | L.C. Jorgensen to Dean Oliver, November 30, 1993 |
| 11. | Broslawsky to L.A. Valley College Faculty, Staff, and Students, December 6, 1993 |
| 12. | L.C. Jorgensen to all his classes, December 12, 1993 |




| | |
| --- | --- |
| 1. | Press Release, January, 1994 |
| 2. | Welcome to My Classes, January, 1994 |
| 3. | Broslawsky to LACCD officialdom, March 2, 1994 |
| 4. | ACLU's response to LCJs request for legal assistance, March 4, 1994 |
| 5. | LCJs BIG SISTER SPANK,, Mendocino Memo, March, 1994 |
| 6. | LACCD Legal Dept. to Jorgensen, April 4, 1994: complaint is withdrawn. |




| | |
| --- | --- |
| 1. | Letter from Mark Pollock, October 18, 1993 |
| 2. | Deena Metzger to Chuck Jorgensen, November 10, 1993 |
| 3. | Al Martinez, Los Angeles Times, November 23, 1993: When Clarence Met Anita |
| 4. | Prof. Kelley Ross in the L.A. Times, December 5, 1993 |
| 5. | Sam Hamill to L.C. Jorgensen, December 6, 1993 |
| 6. | Sam Hamill to the LACCD Board of Trustees, Wally Cox, President, December 24, 1993 |




| | |
| --- | --- |
| 1. | Prof. Kelley Ross to Leon Marzillier (President of AFT local 1521, College Guild), December 6, 1993 |
| 2. | L.C. Jorgensen to Leon Marzillier President of AFT Local 1521, December 28, 1993 |
| 3. | Jorgensen and His Union, May, 1994 |







| | | | |
| --- | --- | --- | --- |
| WARNING | READ | ASK | QUESTION |